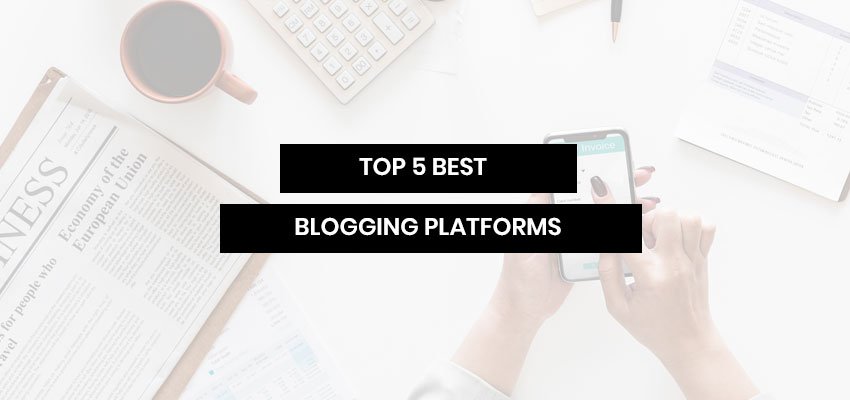 Best blogging platforms for 2018
Blogging can be considered as a hobby to keep people entertained or savvy but these days it is also a medium to promote your business. It's a way to associate to the world. Successful blogging needs a seamless platform to reach the audience. But how to choose the right one among several different blogging platforms?
You should keep in mind the kind of blog you want to create to choose the flexible blogging platform. You might want the best blogging platform with less coding skills and which is easy to set up.
In this article, we will talk about the pros and cons of 5 best blogging platforms for 2018 to help you chose the right one.
WordPress.org is an open source software platform that you can use to build your blog, website or app. It is a self-hosted and most popular blogging platform out there
The most user-friendly CMS on the internet.
A large number of free plugins, themes, tutorials, and videos.
Requires very little technical skills and gives enough flexibility at the same time.
The systems help you to keep itself updated
Little learning curve is required to get started
Free. However, you will need to pay for hosting as low as $3 per month.
Blogger owned by Google is a free old hosting platform that provides a quick and easy way to build your blogs. However, it's not as flexible as wordpress.org but is a great platform for the beginner bloggers.
Easy to understand.
Includes hosting and subdomain.
AdSense ads can be included.
It's free.
Small repository of themes and plugins as compared to wordpress.org.
It's not a self-hosted blogging platform.
It does not receive frequent updates.
You can't add new features to your blog.
It's a user-friendly blogging platform to build and host your websites. It uses drop and drag tool to build a website. You can add a blog to your website using Wix Blog app.
Easy user-friendly interface.
Large library of designs and templates.
Drag and drop interface to build your websites. No need to install plugins to build the site.
No coding skills are required.
Customization options are limited.
It will add Wix branded advertisements to your site.
It has less flexible plans than wordpress.org.
You have to switch to the paid plans for e-commerce sites.
Subscription based, $0-$18 monthly.
It's a hosted blogging platform created by the wordpress.org cofounder Matt Mullenweg. You need not to download and install the software, all you need is to sign up and start blogging.
No need to download or install i.e no setup is required.
Simple to use.
No coding skills are required.
Large library of themes and templates.
Limited functionality till you pay to upgrade.
Can't run advertisements on your blog.
E-commerce is not supported.
Does not support multisite.
Free for basic blogging, $99/year for professional blogging and $299/year for advanced business solutions.
It's a basic blogging platform which only focuses on blog posts. It's a hosted platform that you can install and host yourself. It's supposed to be the simpler version of WordPress for blogging only.
Just a blogging and writing platform.
Very clean and easy user friendly interface.
Fast and optimized, written in Javascript.
No Plugins.

Limited options and themes.
The download version is free. Hosted version costs $8-&200 depending on the blog pages.
We suggest WordPress.org over all the other blogging platforms as it is simple and user-friendly, affordable and has a large library of plugins, templates, and tutorials.