Get the Best WordPress Photography Theme for Your Website
Are you planning to create a website for your photography business? Many photographers around the world have their websites to showcase their work. If you are a professional photographer, you have to compete with other photographers online. And for that, you should have a great website that can attract your target audience and maintain its interest. Keep in mind that the look and style of your website should be attractive. And a website theme plays a very important role in that case. In this article, we will discuss how to choose the best WordPress photography theme for your business website. We will also cover the top 3 WordPress photography themes for your website.
Why Website is So Important?
No matter what type of business you have, you should never underestimate the importance of a website.
Everyone in the market wants to have a profitable business, be it a photographer or any other professional? You are a professional photographer. You have been doing photography for a long. Now you want to expand this photography business to get more clients. Being an amazing photographer does not mean that you would have a successful and profitable photography business. Because it needs only 20% of photography to run a profitable photography business, and the rest depends on how you market your business. How will you do that? The best way to market a business is by going online. In simple terms, by creating a website. Many successful photographers in the world have their websites to showcase their work.
If you have a photography business but you do not have a website, it could be really difficult for you to compete with others who already have their online presence. Therefore, it is good to have a website for your photography business. Creating a website is an easy task these days. But choosing the right theme that perfectly suits your business is very difficult sometimes.
Create a Photography Website
If you are planning to create a new website for your photography business, choosing the right platform is the very first thing you should do. A CMS platform on which you will create the website. There are various CMS platforms available out there. And if you are looking for a CMS that is hard to beat, you should consider using WordPress, the best CMS (Content Management System) in the world. Once you have chosen WordPress as your CMS, the next step is creating a website. During the website creation, a very important step comes where you need to work on its design. And the website design is completely based on the theme you choose.
Although often overlooked, a theme plays a very important role in the growth of any business website. Therefore, you must choose the right theme that suits your business. There are plenty of options available on the WordPress theme directory. Finding the right theme could be difficult for you, especially if you are creating your website for the very first time. While choosing a WordPress theme, make sure it looks beautiful and professional at the same time, and it must be user-friendly. There are two types of WordPress themes available – free themes and premium themes. Instead of choosing free WordPress themes, you should go for the premium ones. Premium themes are highly recommended for business websites. They also allow you to modify the color scheme, images, and layout to give your website a more professional look.
List of Best WordPress Photography Theme
When there are too many choices, it is always difficult to choose the best. So if you are not sure which WordPress theme you should choose for your photography website, we will help you make the right choice. For you, we have picked the most popular and widely used WordPress photography themes out of hundreds available.
#1 – Divi Theme from Elegant Themes
If you are looking for an elegant style for your photography website, you should try the Divi theme provided by Elegant Themes. With over 700,000 satisfied customers, it is one of the best and most popular WordPress photography themes ever. Divi is not just a WordPress theme, it is more than that. It is a completely new website building platform, unlike the standard WordPress post editor. It has many outstanding features that include a smart visual customizer, an inline text editor, a good range of design options, and much more. The Divi theme is user-friendly and pretty easy to set up. So do not worry if you a beginner. With the Divi theme, you do not need to create a photography website from scratch.
Built with the latest technology, Divi is an excellent WordPress theme that comes with a smart page builder to create a photography website. It has hundreds of layouts, and few of them are simply dedicated to photography websites. DiviFOCUS is one of the most popular and widely used Divi layouts for the photography business. From showing your photography skills with a dedicated gallery to showcasing your previous work with a portfolio, and from providing pricing details to booking clients through a contact form, you get almost everything in this layout. Your photography website will look great with DiviFOCUS, no matter what device is being used.
#2 – Elegance Pro from StudioPress
After Divi, the next best WordPress photography theme you may consider using is the Elegance Pro theme from StudioPress. Being a multipurpose WordPress theme, Elegance Pro is perfect for any type of business website, be it fashion or photography. If you are a professional photographer, designer, or any other artist, you can build a graceful WordPress website for your business with this theme. By using the WordPress theme customizer, you can easily set up the Elegance Pro theme, and there is also a live preview option. Although it has a minimalist layout design, you can display the photos gorgeously using this theme.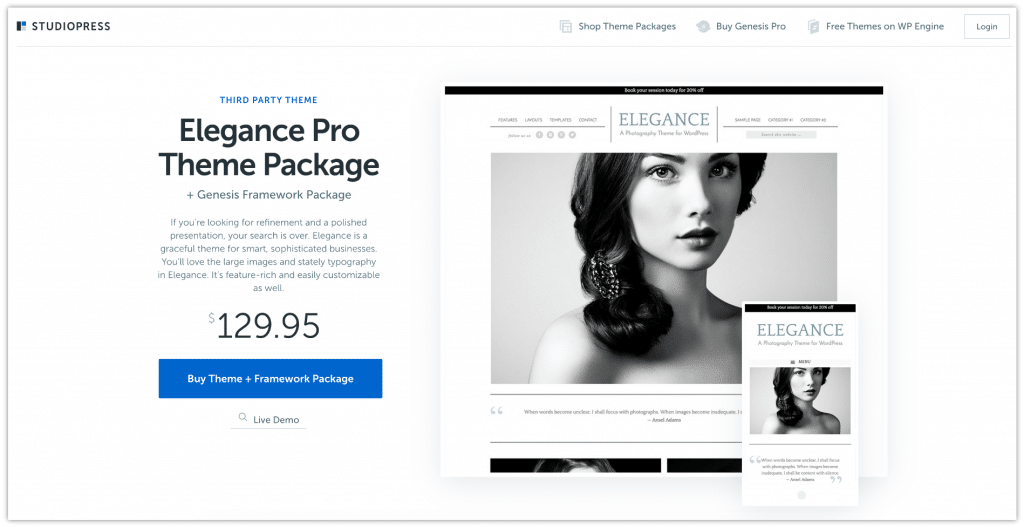 Built on the top of the StudioPress Genesis Framework, Elegance Pro offers great customization to build an attractive website with a more professional look. You are going to love the large images and stately typography in the Elegance Pro theme. You can also change the layout of almost every page as well as the colors used throughout the theme. Since it has easy to use controls like checkboxes and text fields, this WordPress theme can be used and customized by anybody, even a person who has no prior expertise can easily use it.
#3 – Crater Pro from Spiracle Themes
If you are looking for a premium WordPress theme for your business website, the Crater Pro theme is a good choice. This theme is the perfect solution for those who are into travel, restaurant, real estate, hotels, weddings, and photography businesses. With this premium theme, you can build a great WordPress website for your photography business. Being a highly responsive WordPress theme, the websites you create with this can easily be viewed on any device, be it mobile or a tablet. It has a wide range of features and great page speed that will improve your website performance. Crater Pro has a smart theme customizer along with an Elementor page builder using which you can customize this theme as desired/required.
There is a beautiful portfolio section dedicated to showcasing your previous work. This will make a positive impact on your target audience. The bootstrap framework used by this theme enables you to create new sections on your website. Crater Pro is a translation ready theme, i.e. you can convert your website to any language and engage more customers all around the world. If you use this premium theme, your photography website will have every chance of being indexed by Google and other search engines. Being an SEO friendly theme, the HTML structure is pretty clean and proper SEO tags have been added. As a result, your target audience will find your content easily.
Besides the above 3 WordPress photography themes, you may also consider these WordPress themes for your photography website – Lense, PhotoBlogster, Astra Theme, Shutter Up, OceanWP, Ultra, Hestia Pro, Fargo, Neve, Expose Pro, Coastline, Bold Photography, Ambiance Pro, Benson, Tempo, Shape, True North, Parallax, Gusto, Inspiro, Eclipse, Suarez, Photograph, etc.
Conclusion
Remember, choosing the right theme for your photography business is very important. No matter how exceptional content you put on your website, your efforts will come to nothing if your website design is not attractive. An unattractive website may not be able to hold your visitors' interest. The article has covered a few popular WordPress themes for your photography business. I hope now you can choose the best WordPress photography theme for your website.
Credits
WordPress Icon made by
Pixel Perfect
from
www.flaticon.com