How to Get Domain Name and Hosting for WordPress Website
Buying a domain name and hosting is probably the most important aspect while learning how to create a website. In the previous article, we have already covered how to create a free WordPress website. If you are planning to build a new website, you should understand what exactly a domain name is, and how to get a domain name and web hosting for your WordPress website. This article will explain everything about the domain name and web hosting. You will learn how to get a domain name and hosting for a WordPress website. This article will also help those who are looking for – how to build a WordPress website with Bluehost.
Get Domain Name
Domain name refers to your website name. It is used in the URL to identify particular web pages. For example, in the URL www.spiraclethemes.com/themes/, the domain is spiraclethemes.com. By entering the domain name into the address bar of the web browser, Internet users can access or visit your website. Choosing the right domain name for your website is very important. You should consider the following points while choosing a domain name:
Keep in mind that every domain name should be unique. Any two websites cannot use the same domain name.
If you are creating a website for your business, your domain name should be what your brand or business name is. Companies like Microsoft Corporation and Apple Inc. have their website domain name the same as their brand names.
If you are creating a personal website, I would recommend choosing your real name as the domain name.
A domain name should be short because shorter names are easy to remember and anyone can easily type them.
Choose a domain name that is memorable as well as catchy. It should describe what your brand or business is all about.
Do not forget to include the keyword. Whatever you choose as your domain name, it should be SEO friendly.
Once you have chosen the domain name, you should then choose a domain name extension like .com, .net, and .org. For more information about the available domain extensions, see – List of Internet Top-level Domains. After choosing the right domain name for your website, you should register your domain. Although you can get a domain name for your website without having to pay, registration of your domain name is a must. Registring the domain will ensure that no one else can use your domain name.
Get Web Hosting
You have your domain name. Now it is time to get web hosting for your website. Many of you might not be familiar with this term – Web Hosting, especially if you are creating a website for the very first time. Web hosting is an Internet hosting service that allows you to make your website accessible through the world wide web (www). Without using a web host, nobody can access your website on the Internet. It is used as a storage space that allows you to store all the files of your website on a web server.
Remember, a reliable and high-performing web hosting service is very important for any website to perform well. There are many web hosting providers in the online marketplace, Bluehost is one of them. It is the best choice for you if you are creating your websites on WordPress. Below are a few reasons why you should choose Bluehost hosting:
Bluehost is the most reputable web host for WordPress websites. It makes sure that your website runs smoothly without any problem.
It provides the most affordable web hosting service, starting from $3.95 per month.
Any novice user or beginner can use it with ease.
Bluehost gives you a domain name for free. Apart from that, you will get a free SSL certificate, one-click WordPress installation, and 24/7 customer support.
Let's get started with the process – Create Website with Bluehost hosting.
Create a Website with Bluehost
Follow the steps shown below:
Step 1: First, go to the Bluehost website. On that very page, click the Get Started Now button.
Step 2: On the signup page, select your web hosting plan. Since you are creating a new website, I would recommend choosing the basic plan. It will cost you around $4 per month. Click Select.
Step 3: In this step, you need to sign up for the Bluehost web hosting service. Since you are creating a new website, enter the new domain, and select domain extension. Click Next to continue the process.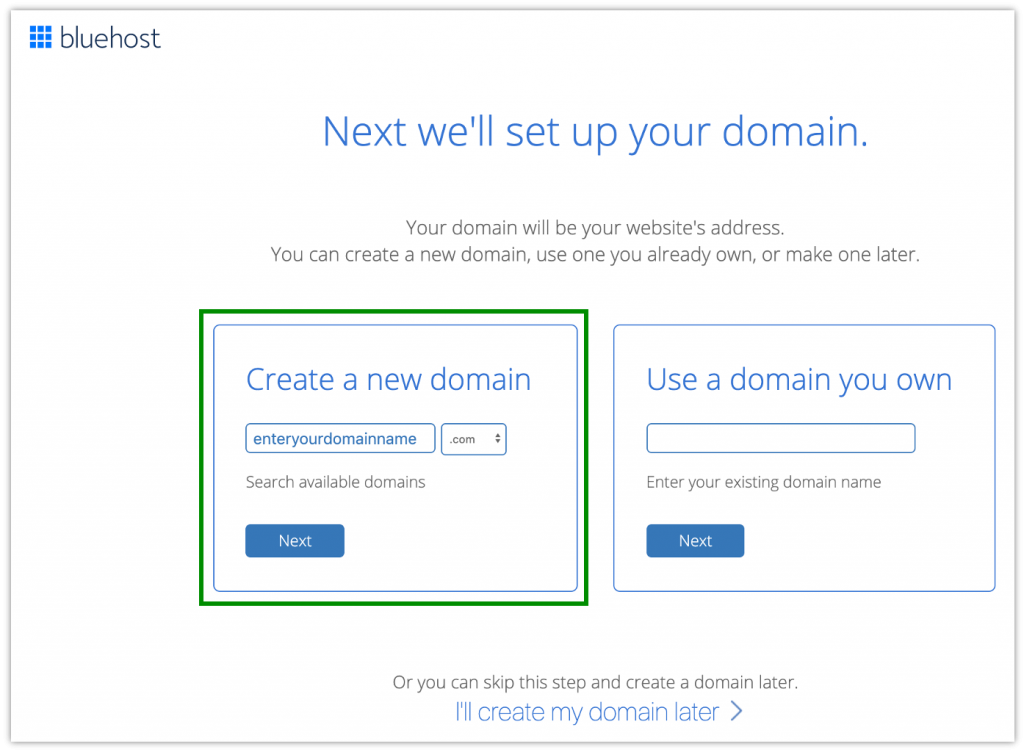 Step 4: If the domain name you have entered in the previous step is available, you will see a message saying "The domain yourdomainname.com is available". Now you need to provide your account information including the payment information. After filling in all the information, click the Submit button at the bottom of the page.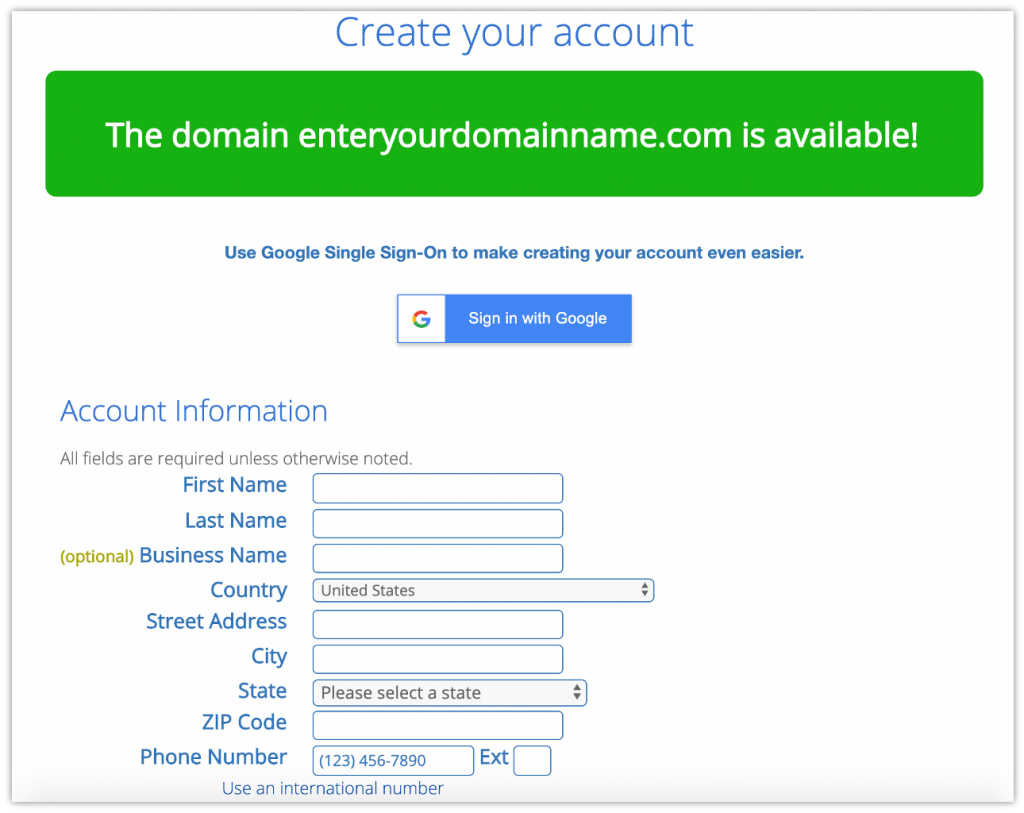 You have successfully purchased your web hosting service from Bluehost. Now all you need to do is install WordPress.
How to Install WordPress?
There are two ways to install WordPress: either you can install it manually or install WordPress with Bluehost. I think when Bluehost can install WordPress for you, you should not worry about that. Let it do the WordPress installation. When the signup process with Bluehost hosting gets completed, you will receive an email from the Bluehost team about how to log into your WordPress account and start working on your website. Once you are logged into your WordPress account, you will see an easy-to-use wizard that will help you understand how to install WordPress with Bluehost.
On the Bluehost dashboard, click My Sites in the left pane. Then click the Create Site button.
After that, you have nothing to do except providing the name of your website and username & password to Bluehost. Within a few minutes, the WordPress installation will be completed and your website is ready to go.
Conclusion
I hope the article would have helped you understand the domain name and web hosting. The main objective of this article is to help you learn how to get a domain name and hosting for a WordPress website. The article has also explained how to install WordPress with Bluehost if you do not want to install WordPress manually.
Spiracle Themes content is free. When you purchase through referral links on our site, we earn a commission. Learn More